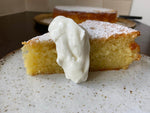 Serves 8-10 Time Taken 1 hour 5 minutes
Ingredients
250g caster sugar

225g plain flour

1/2 tsp salt

1/2 tsp bicarbonate of soda

1 tsp baking powder

175g full-fat Greek yogurt, plus extra to serve

2 lemons

3 eggs

icing sugar, to serve
Method  
Heat oven to 160C/140C Fan. Lightly grease a 23cm springform cake tin with oil and line the base with baking paper.

Mix the sugar, flour, salt, bicarb and baking powder together in a large bowl.

Measure the Greek yogurt into a separate bowl. Zest and juice in both lemons, whisk to loosen the yogurt. Crack in the eggs, pour in the olive oil and whisk together.

Pour the wet ingredients into the dry, whisk until you have a smooth cake batter then pour into your cake tin. Bake in the centre of the oven for 50 minutes until a skewer poked into the centre of the cake comes out clean.

Leave the cake to cool in it's tin. Once cool dust with icing sugar and serve with Greek yogurt. Will happily keep in an airtight container for 3-4 days.